This case study is a work-in-progress. Please check back again for complete detail.
Introduction
"... You've gotta be kidding me. Match my clothes ..."
Everyday activities such as buying clothes, doing laundry, and picking the clothes for the day might seem trivial and we might take it for granted. However, for the visually impaired, which makes about 3% of the American population, navigating through this entire clothing journey is no easy task.
In this proect, we attempted to design a system to help the visually impaired with this problem.
Overview
Problem
With limited or no sight, navigating through the clothing ecosystem is not an easy task for the visually impaired. It is difficult to buy the right clothes, organize them at home, and choose what to wear. Most current ways of doing so requires that they are dependent on other people.
Approach
We designed an NFC-enabled application with a smart wardrobe system to help visually impaired users retrieve information about clothing items, as well as to suggest matching for the user, helping them be more confident with their clothing and allow a more independent lifestyle.
---
Process Overview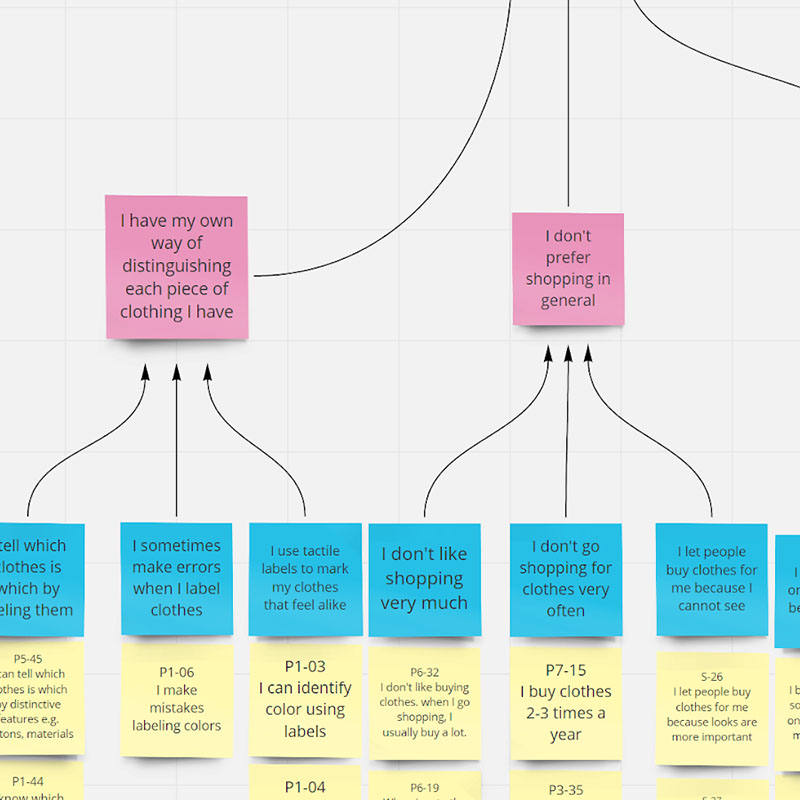 1. Research
Secondary Research
Interviews
Survey
Field Study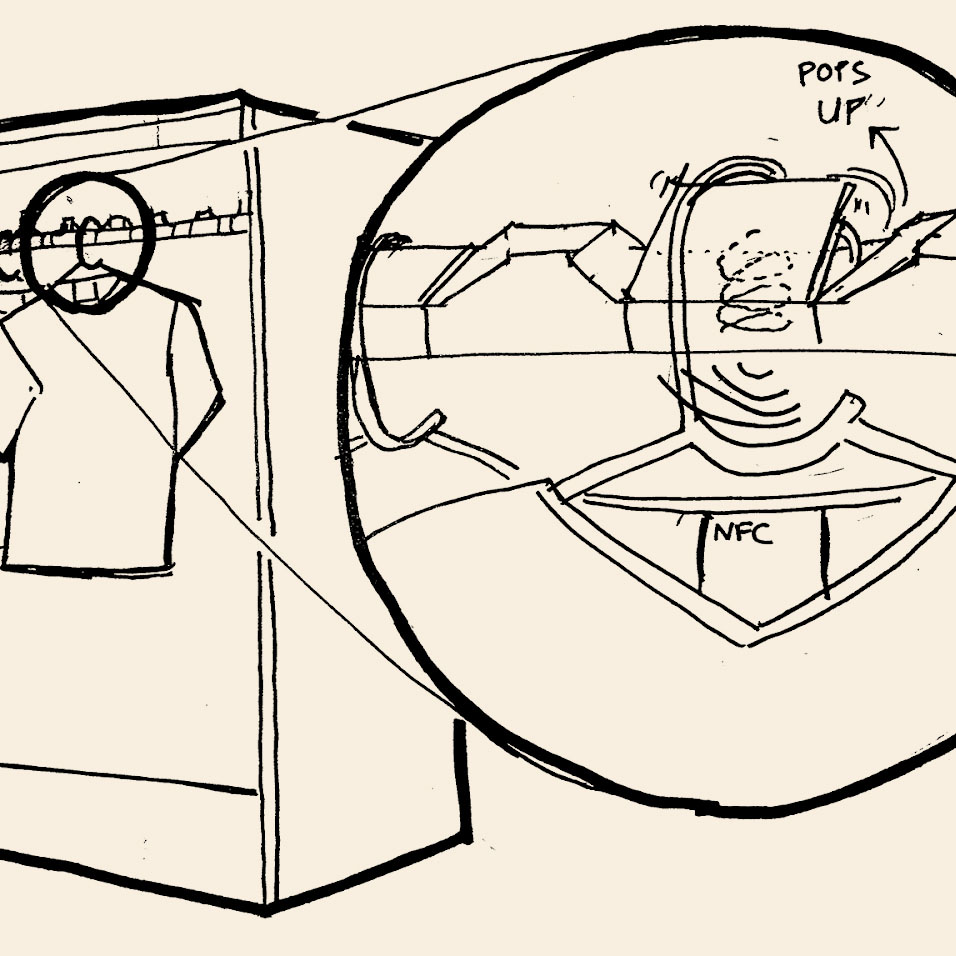 2. Ideation & Design
Problem Definition
Design Ideation
Idea Selection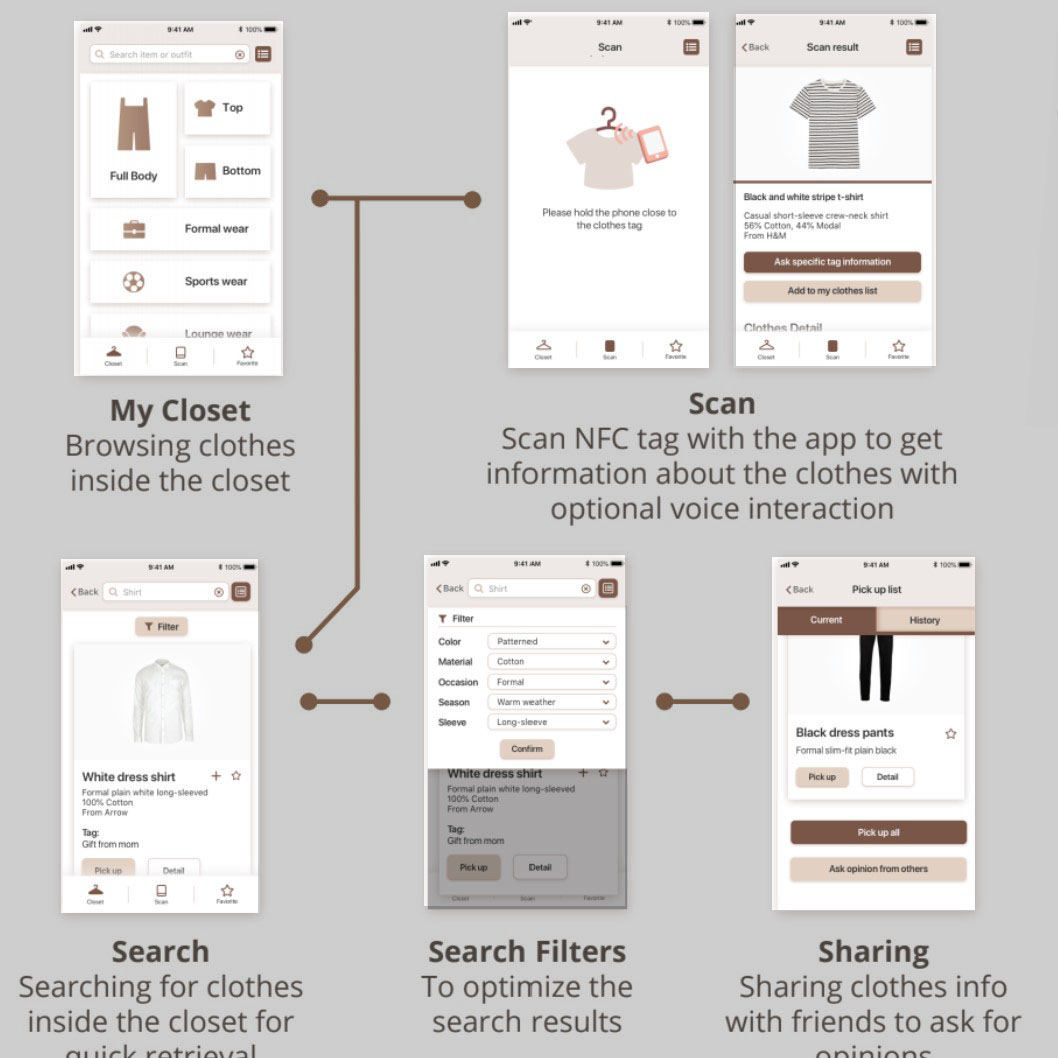 3. Prototyping
Wireframing
Mid-fidelity Prototype
Interactive Prototype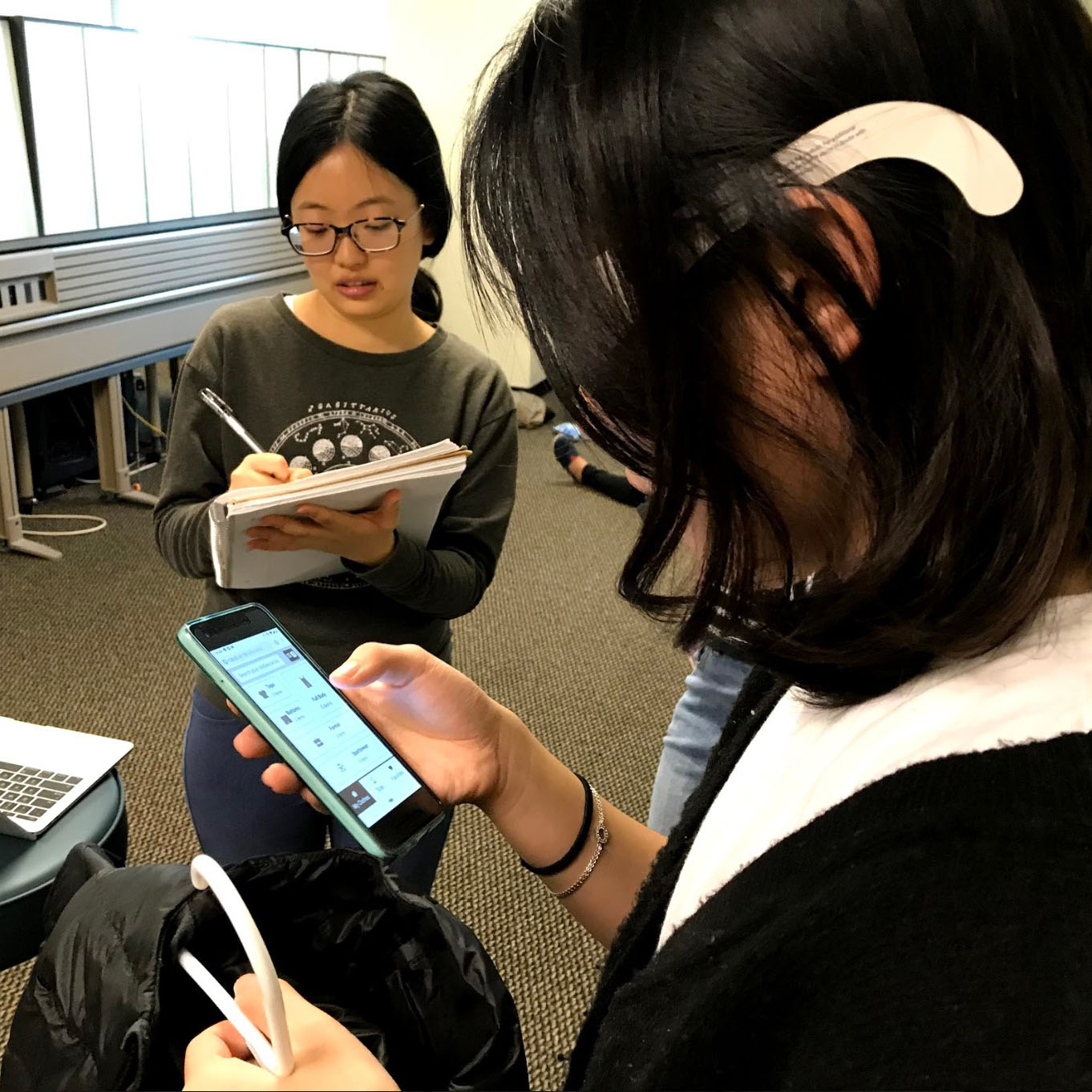 4. Evaluation
Expert Review
Discount Usability Testing
---
Research
What we did
1 Field Study
A blind participant kindly invited our team to visit his apartment where he showed us his living condition and the way he organizes clothes at home.
6 Interviews
We conducted face-to-face and remote interviews with visually impaired people to understand more about their experience buying and organizing clothes.
Survey (n=15)
We distributed a screen reader-accessible online survey through visually impaired communities as well as through Atlanta's Center for the Visually Impaired mailing list to gather data from a wider group.
Secondary Research
We looked at multiple online sources that visually impaired people have documented their processes in websites such as YouTube and Quora.
Data Analysis
We analyzed the data from these reserach methods using affinity mapping technique.
~400
Affinity Notes Generated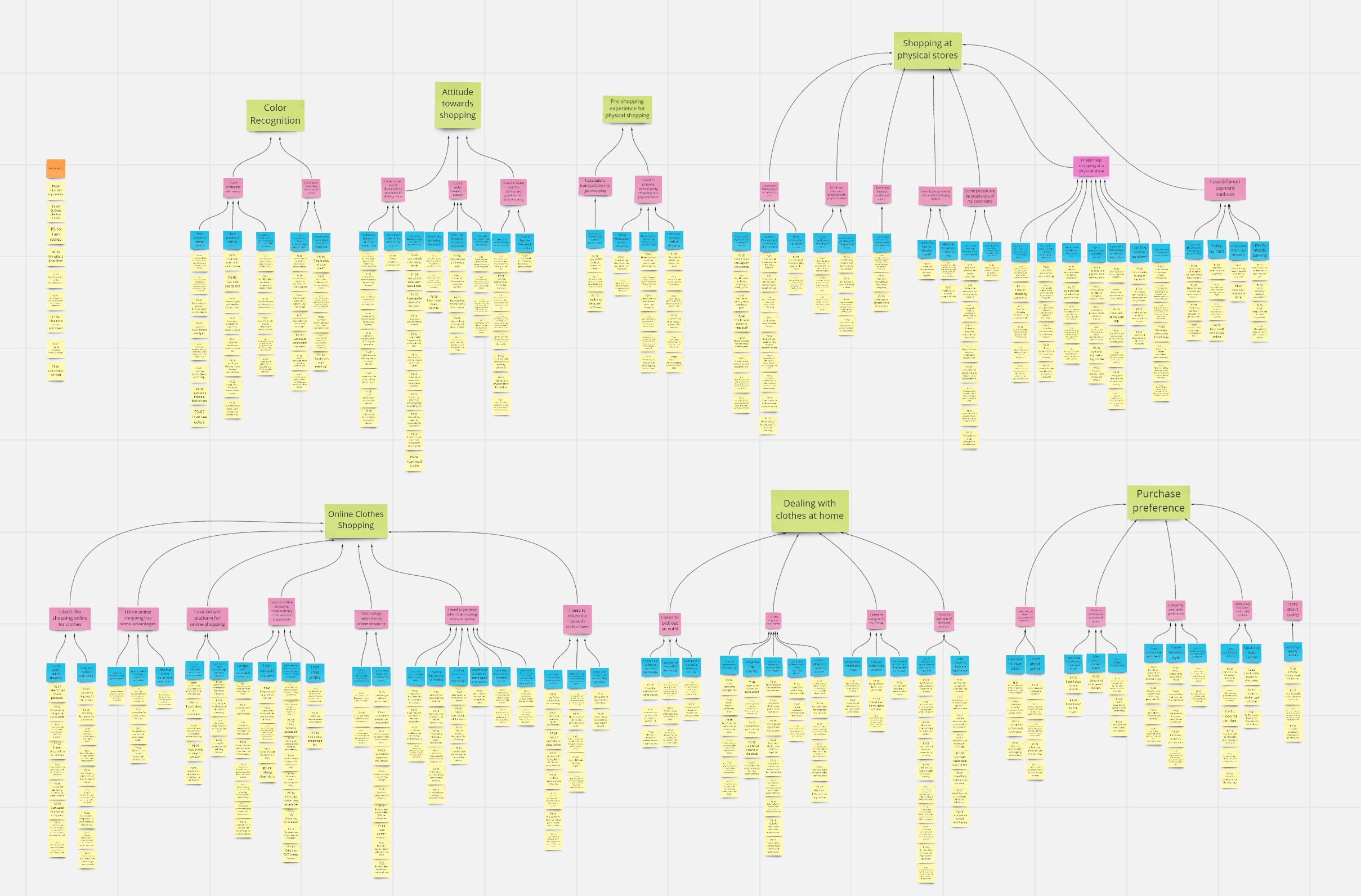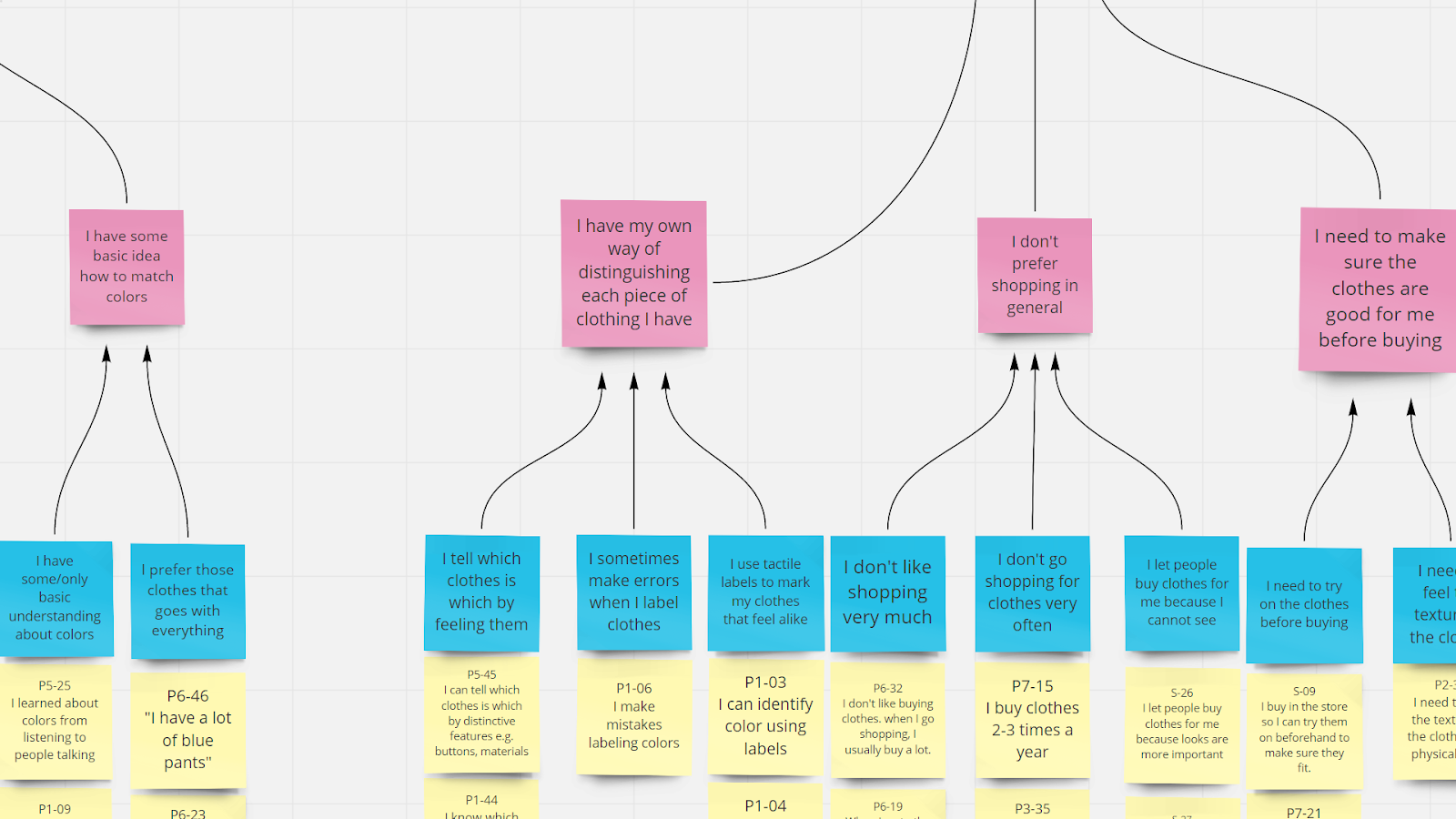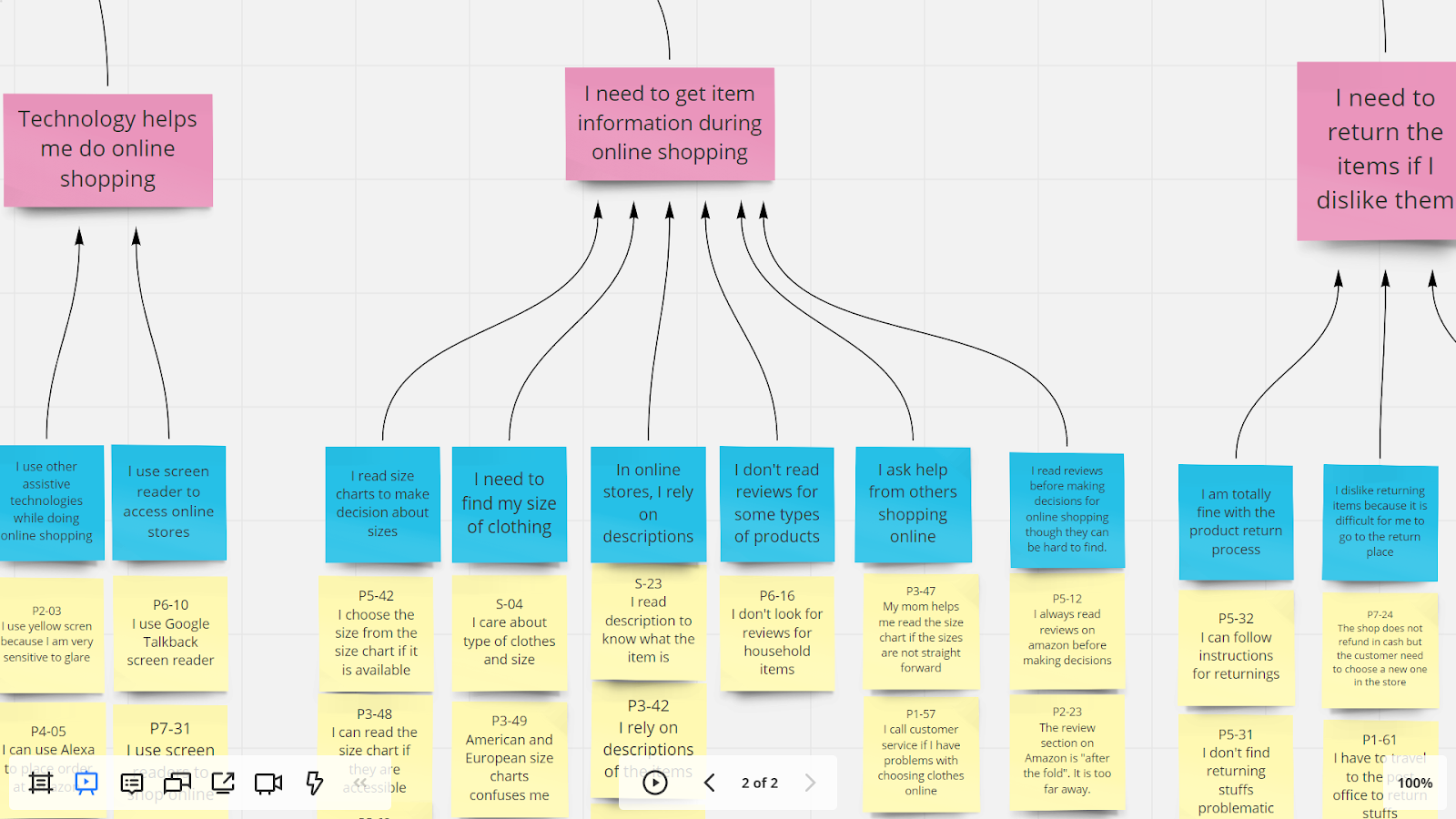 Insights: What we learned
The Status Quo
Through our research, we learned about the experience of a visually impaired person in navigating through the entire clothing ecosystem from buying clothes from a store, physical or online, organizing them at home and doing the laundry, as choosing the clothes to wear for the day. The overall journey is illustrated with this map.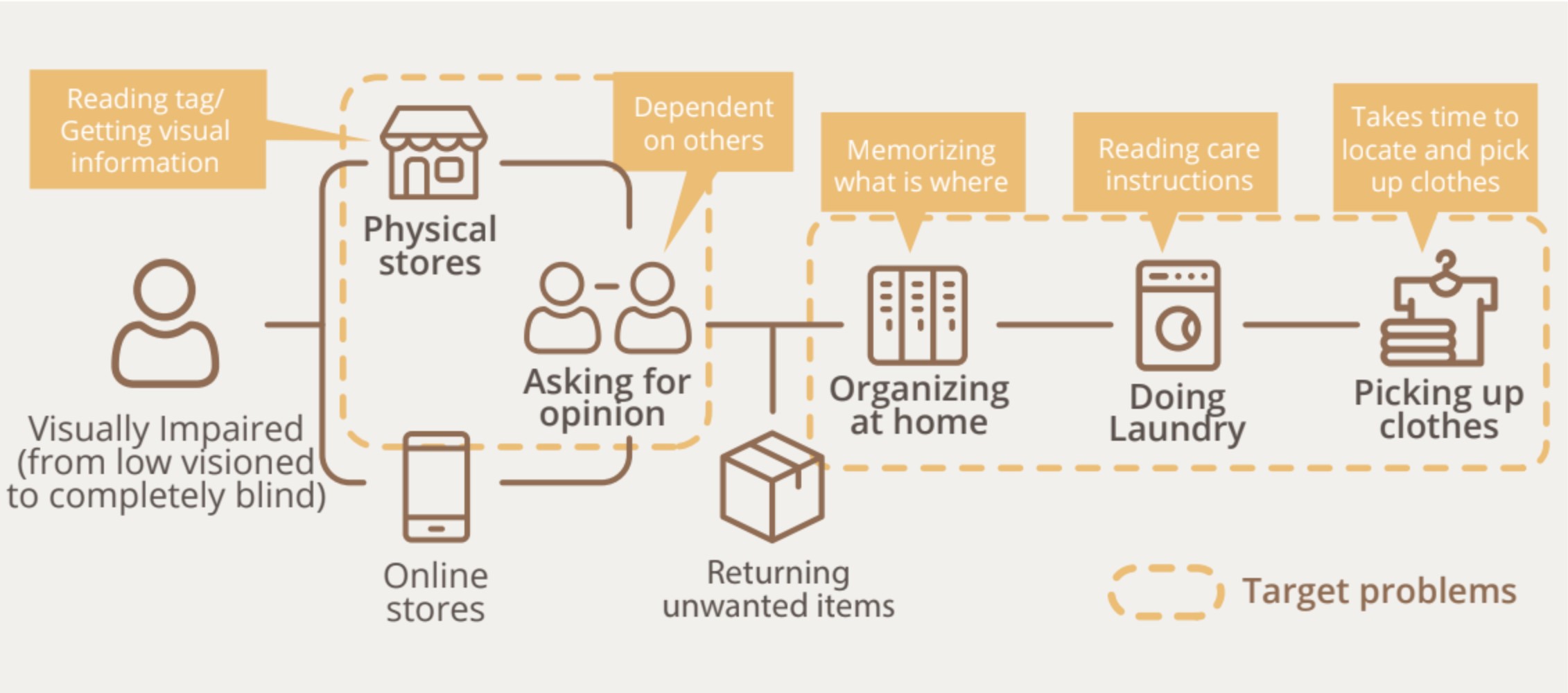 Dependent on Others
Visually imapired people are heavilydependent on other people, such as their friends and family, when it comes to clothing, limiting their independence.
Inaccessible Services
Many participants said that it is difficult to shop online because a considerable portion of the websites are not accessible through screen readers.
Getting Visual Information
Not only we judge a piece of clothing by how it looks, there are also other visual information we need to know about it on the labels such as size, brand, and care instructions. Visually impaired people also need these information as well.
Difficulty Exploring New Styles
Fashion are mostly visual, from color, form, to matching, and visually impaired people do desire to look good and blend in with the society
Matching Clothes
Visually impaired people do care about how they look. However, they struggle with matching clothes, especially colors.
Organizing and Retrieving Clothes
Doing the laundry, naturally scrambling the clothes in the process, makes it harder to organize clothes and doing so without seeing each of them requires a lot of mental effort. In the field study, the participant even mislabeled and misidentified their clothes.
This case study is a work-in-progress. Please check back again for complete detail.